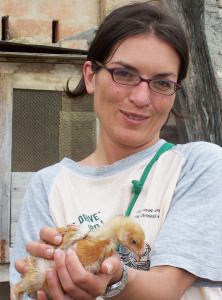 Past Events
Oklahoma City, OK
Dallas, TX
Little Rock, AR
Memphis, TN
Richmond, VA
Montgomery, AL
Florence, SC
These meetings are for all women
Are you a woman who has been treated unfairly by USDA in the last 30 years?
If you would like information on the Women Farmers' Discrimination Lawsuit against USDA regarding unfair treatment in the farm loan programs since 1981, please join lawyers involved with the case for one of the following informational meetings: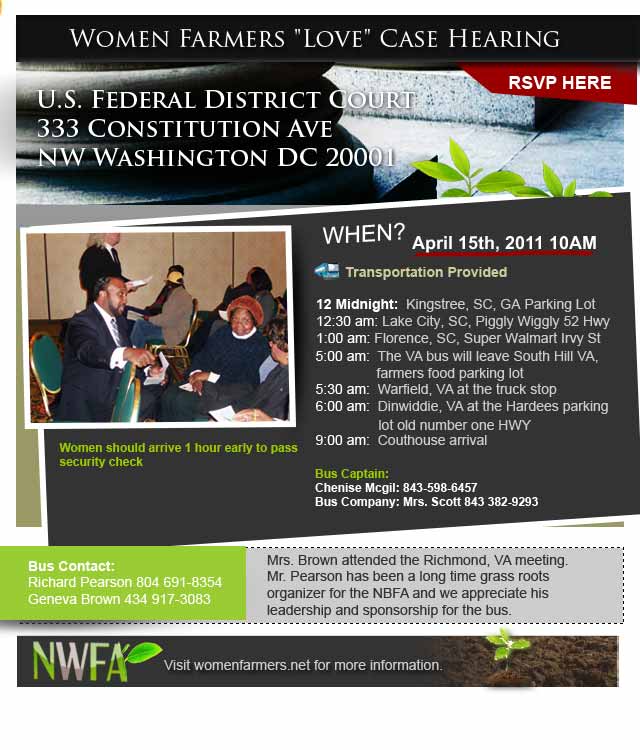 UPCOMING EVENTS:


*04.15.11 - Washington, DC
Court Hearing for the Women Farmers "Love" Case
10am United States Federal District Court
333 Constitution Ave
Women should arrive 1 hour early to pass security check
Bus Schedule:
12 Midnight: Kingstree, SC, GA Parking Lot
12:30 AM: Lake City, SC, Piggly Wiggly 52 Highway
1:00AM: Florence, SC, Super Walmart Irvy Street
5:00 am: The VA bus will leave South Hill VA, farmers food parking lot 
5:30 am: Warfield VA at the truck stop
6:00 am: Dinwiddie VA at the Hardees parking lot old number one HWY
9:00am: Couthouse arrival
Bus Captain:
Chenise Mcgil: 843-598-6457
Bus Company: Mrs. Scott 843 382-9293
Bus Contact:
Richard Pearson 804 691-8354
Geneva Brown 434 917-3083
*Mrs. Brown attended the Richmond VA meeting. 
*Mr. Pearson has been a long time grass roots organizer for the NBFA and we appreciate his leadership and sponsorship for the Bus 
03.25.11 - Fort Dodge, Iowa
Noon Country Inn Suites
3259 Fifth Avenue South
03.25.11 - Marshalltown, Iowa
5:30pm Best Western
3303 South Center St.

03.26.11 - Cedar Rapids, Iowa
Noon Holiday Inn
3320 Southgate Court

03.26.11 - Des Moines, Iowa
4:30pm Quality Inn & Suites
929 3rd St.

02.25.11 - Porterville CA
5-7 pm Holiday Inn Express, 840 South Jaye Street
02.26.11 - San Bernardino CA
12-2 pm Marriott Residence Inn, 1040 E Harriman Place

02.11.11 - Littlerock, AR
6-8 pm Hilton Hotel, 925 South University
02.12.11 - Memphis, TN
12-2 pm Holiday Inn Select, 160 Union Ave
For Details Call: 901 525-5491
02.18.11 - Oklahoma City, OK
6pm Sheraton Hotel, 1 North Broadway Avenue
02.19.11 - Dallas, TX
12pm Marriott Hotel, 650 North Pearl Street
These meetings are for women who are White, Black, Hispanic, Native and Asian - all women.